OmniLAN: HIQ Home
Get all the needed information about the HIQ Home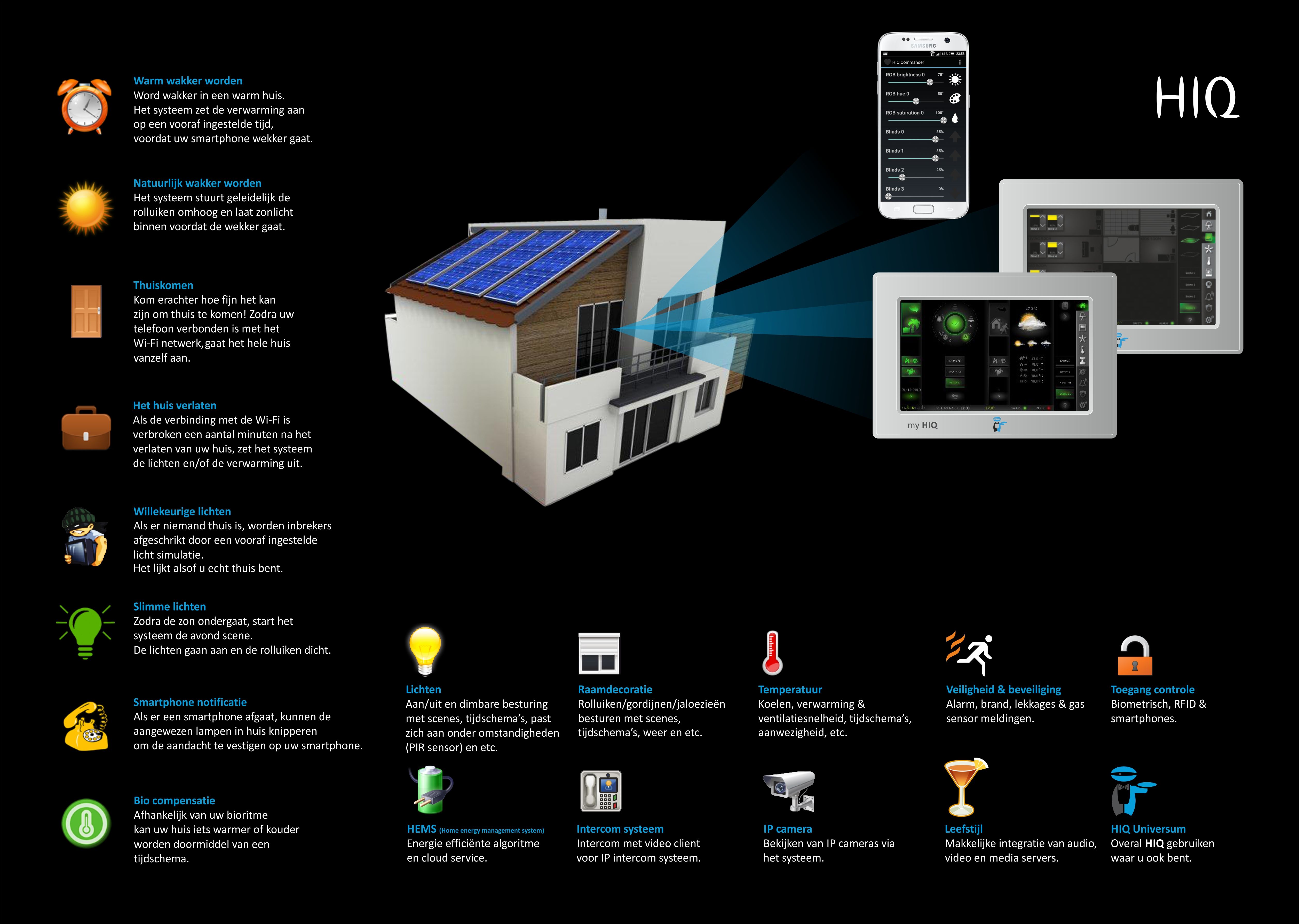 General Information
HIQ Home is a development within house comfort. It is used to really get the most out of everyone its house. The HIQ Home is set to comfort the wishes of its user.

For example, in the morning after waking up, you want it to be pre-heated in the living room and/or kitchen. Everything is adjustable in the mobile application.
It always is possible to integrate new technology in your already existing system. Because of this, the HIQ Home really is an open system.
Find out what HIQ Home can offer for you.
(Click on the image to see the full version)

Schematic Display
The HIQ Home will help you to get the most out of your house.
You really feel at home when you come back home after a long day of work and your house is already heated and everything is in the setting of how you want it to be after a long day.

The display on the right shows that you only need a 'Main Controller' and the modules needed for the features you want to use.

For example, you need a 'Light Controller' to get the feature for automatic lights and the 'Blinds Controller' for automatic blinds. It's easy as that.
To find out what you need for your ideal home. Follow the flowchart below

(Click on the image to see the full version)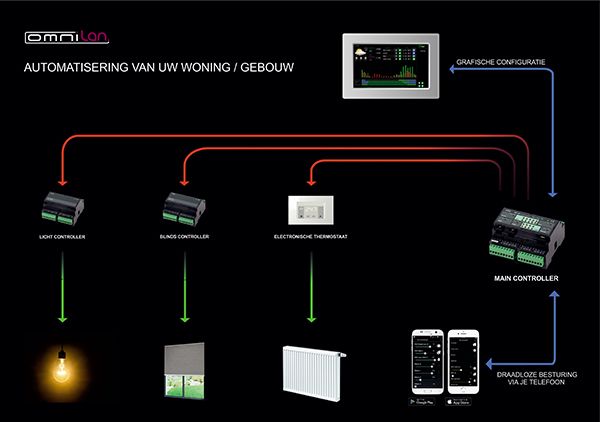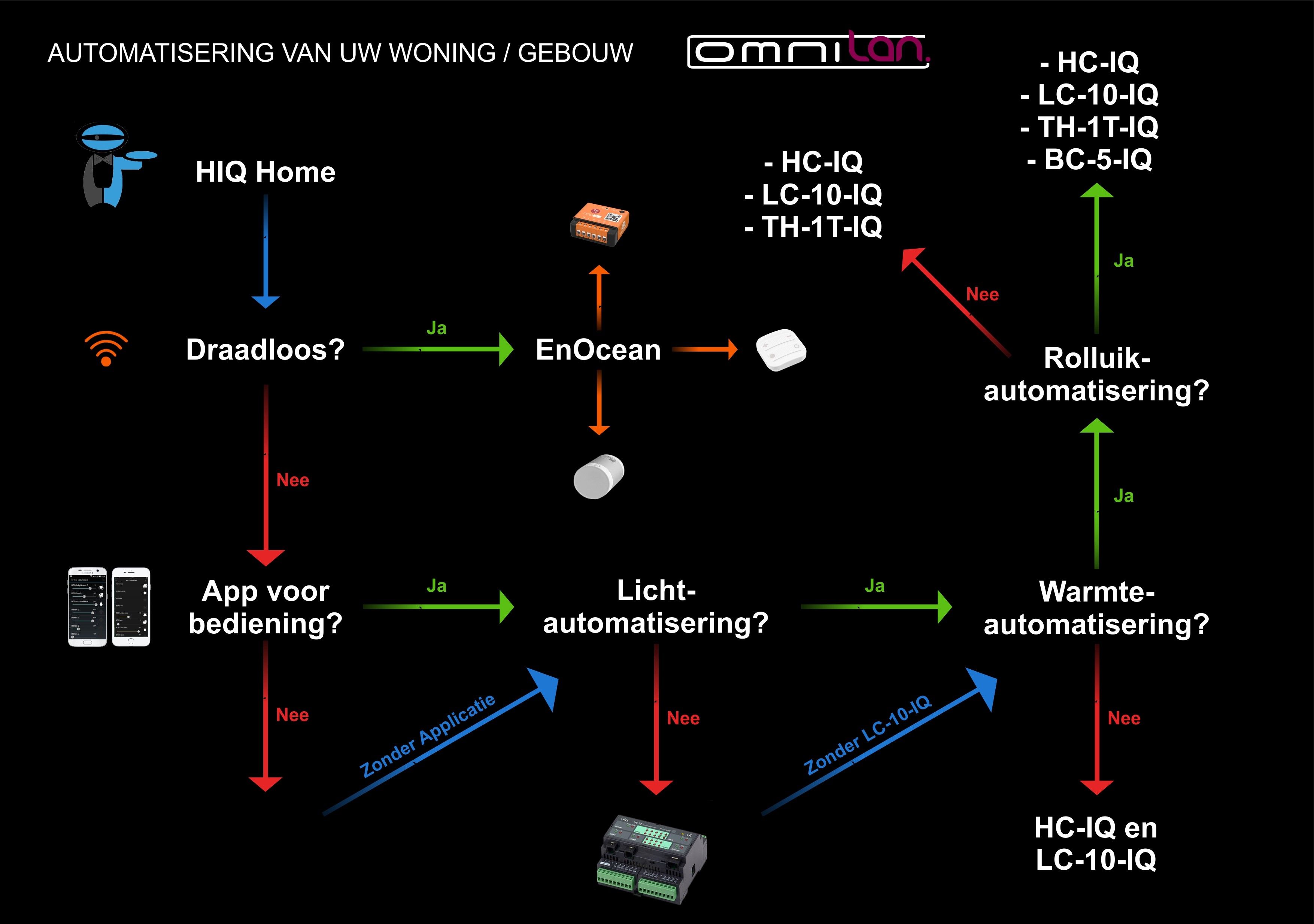 Product Flowchart
There are a few different modules that possible could come with the HIQ Home. Because of that, it might be hard to decide which modules you need.
A flowcharts makes it easier to decide which modules are needed to get your ideal home.

You start at the left top of the chart, which says 'HIQ Home'. From there, some questions will be asked. Answer these questions and at the end of the road, you will know exactly what you need and what modules you could skip.

Note: New modules can always be integrated in your system later on.

(Click on the image to see the full version)




Class Certificates
HIQ Home is a new development in the market of house automation. Because of that, there is a learning curve in the world of the HIQ Home.

We give class about the HIQ Home and the way it exactly works. By following these lesson, you'll be able to get a HIQ Home Certificate from starting from Bronze all the way up to a Platinum certificate.
The certificates show that you have knowledge of HIQ Home and come with different benefits like high discounts and support by any problems.
With this, both installer and consumer benefits from it.
Learn more about our HIQ Home Certificates and apply!

(Click on the image to go to the certificate page)